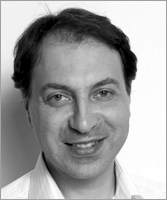 About Me
My name is Ziad Hakim. I live in Berlin. Since 2001, I have been working as a freelance software consultant and application developer.
Since 2008 the focus of my activity has been on the development of iOS apps, which can also be purchased from the Apple App Store. I brought my proficiency and knowledge in this area up to date and extended it by participating in the Apple WWDC (Worldwide Developers Conference) in 2008, 2009 and 2012.
I have obtained a number of certified qualifications by participating in numerous IBM seminars, which I was able to utilise practically during my employment with IBM business partner companies.
I developed my conceptual and creative style of work, which I am able to use in my favour in the IT sector, during my intensive work in the music industry. I discovered the gratification I get from working with people from diverse cultures and languages during my studies in Moscow and Berlin, which I concluded as certified Diplom Pianist.
Contact: